Exhibition – Expansion. New paintings and sculpture by Tomás O'Cíobháin & Anthony Scott
Categories: Exhibitions
---
– Expansion –
an exhibition of new paintings and sculpture by
Opened by Professor Liam O'Murchu
Venue: Greenlane Gallery Dingle
Date: 5th July – 30th July, 2008
Opening: Saturday 5th July at 7.00 pm
---
When you meet sculptor, Anthony Scott's life-size bronze horse, Labharacam, the centerpiece of his forthcoming exhibition at the Greenlane Gallery, Dingle (5 – 30 July 2008), its like all of his previous work has come into its proper dimensions, and that his older, smaller horse sculptures have been a rehearsal.
Fermanagh born Scott, famous for his striking animal figures cast in bronze, has no interest in being representational, and Labharacam becomes the story of a horse in terms of its strength and the emotional weight it carries. Roughly patinated in a coppery green, textured like lichen, her surface reflects the inevitability of oxidisation, the wear and tear of time and the elements.
For those with interests in more manageably sized sculpture, Scott is also exhibiting a range of smaller, mythical bronze animals, including Cain (the hog), Morigan (the crow) and Bran (the hound) – all infused with an emotional integrity and individuality that is at the very heart of his work.
This exhibition also sees an exciting new body of work by West Kerry Coast artist, Tomás O'Cíobháin. While O'Cíobháin continues his fascination with the land and seascapes that surround him, often from extremely vertiginous perspectives, it is in an increasingly abstract manner and with a lighter touch.
An Ghráig in the westernmost part of Paróiste an Fheirtéaraigh, in West Kerry, is where Tomás Ó Cíobháin is from and where he gets his inspiration, from the slope of the landscape of that town-land, down to and, suddenly, over the cliff, more gently to the strand of Tráigh Chloichir; it is in him and he in it.
New works such as Carrigracha Mora Trathnona (massive rocks in the evening), Faillteacha Minaird (Mainaird cliffs), and Rock Art, Comineol, in particular, illustrate a new body of work that in its abstraction has become more confident in its ability to capture a more subtle movement and a more personal perspective.
Ó Cíobháin's daughter, Áine, will also show some of her work at the forthcoming exhibition. As well as being an accomplished artist, Aine, a graduate of the Crawford College of Art and Design in Cork, is training to be an art director. She has recently been involved with such notable directors as Gerry Stembridge on 'Alarm' and Lance Daly on 'Kisses' two productions that are about to hit our cinema screens over the next couple of months.
In contrast to her dad, whose work is based on day-time rural scenes, Aine concentrates on night-time urban landscapes. Her years immersed in the grimey, urban world of night-shoots, give her paintings an urgency and authenticity ripped from the streets.
---
---

Comíneol by Tomás O'Cíobháin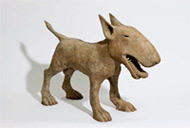 Standing Pitbull by Anthony Scott
---